Having undertaken a number of initiatives to reach out to the Community in Ibrahimpur (remotest village in Medak District in the State of Telangana), Dr. Raghu Ram was invited to participate in a programme to announce yet another distinction achieved by this Village – FIRST in South India & SECOND in the country to be declared 100% Cashless transaction village since the demonetisation drive was launched by Prime Minister.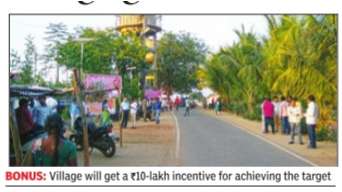 HYDERABAD: Ibrahimpur in Siddipet assembly constituency has emerged as the first village in the southern states to take all its business transactions online and begin afresh as a totally cashless village. The village with a 1,200 population has been declared a 'cashless transactions village' after the district administration opened accounts for all villagers who did not have them, gave them debits cards, set up swipe machines in shops and micro ATMs in ration shops.
The village was declared 'cashless' after a formal event in which a local resident Muthaviah along with four others purchased 12 kg rice and other provisions from a ration shop in the village in the presence of irrigation minister and local MLA T Harish Rao on Monday.
Village sarpanch Kumbala Yella Reddy said all residents of the village contributed in making in a 'cashless village'.
Interestingly, Ibrahimpur village has a distinction of having 100 per cent water harvesting facilities and toilets in every house.It also planted a staggering two lakh saplings during the Haritha Haram programme. The village was adopted by Harish Rao.
Ibrahimpur will get a Rs 10 lakh incentive in the form of development fund from the Constituency Development Fund given that the irrigation minister had announced incentives to first, second and third villages that go cashless. The second and third villages will receive incentives Rs 5 lakh and Rs 2 lakh respectively.
It may be recalled that the state government resolved to make entire Siddipet assembly constituency cashless by opening bank accounts, providing debit cards and swipe machines to people and establishments apart from installing micro ATMs at some locations such as gram panchayat offices and ration shops. Chief minister K Chandrasekhar Rao had fixed December-end as the deadline to achieve this goal. The district administration had been conducting orientation programmes to various groups of people along with making other necessary arrangements.
Leading cancer specialist Dr Raghuram, MLA Babu Mohan and MLC Pathuri Sudhakar Reddy were present at the declaration programme.